It was hard to narrow this down. But here are my Top 6 ugliest athletes of all time. Use poll to select ugliest.

George Muresan. Not only is he ugly, but he is big and ugly.



Delonte West. Every day is Halloween. Gets even uglier if you hear him interviewed.



Big Unit Randy Johnson. World class pitcher, world class ugly.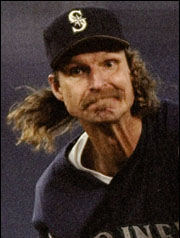 Mike Ricci. Guess what he wants for Christmas????



Don Mossi. Otis Nixon is doing his introduction at his Hall of Fame Ugly induction.



Andre the Giant. OK, I am pushing the term athlete, but you can't argue with his induction.



Also receiving votes were Patrick Ewing, Ron Karkovice, Scottie Pippen and Otis Nixon. Good luck next year guys.